Stephen Hargash is a self-employed artist, originally from Frankenmuth, Michigan. He started making a living with his art when he was fresh out of high-school at the age of 18. Converting a pop-up camper into a moveable vending booth, he travelled throughout Michigan on fair and festival routes and used his talents and knowledge of airbrushing to create unique T-shirts. He used the money he made to pay his way through college at the Kendall College of Art and Design where he took his foundation classes, finding a love for sculpture as his primary focus. Leaving Kendall in 1994, Stephen moved to Minnesota and entered into classes at the Minneapolis College of Art and Design (MCAD) where he earned a Bachelor's of Fine Arts in Sculpture and Painting.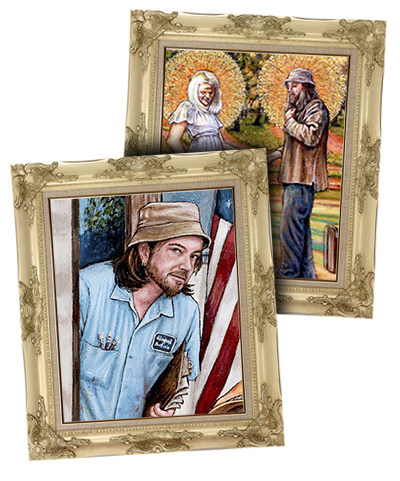 While attending school at MCAD, he received his first taste of what would become the focus of his career path as an artist, that of a mural painter. His hometown community has been very supportive of his work and his first commission was in Frankenmuth for a local businessman, who commissioned Hargash to paint five large public murals. They were completed in the summer of 1995 and because of the nature of project Hargash set down the airbrush and entered a new realm of artistry. This not only paved the way for him as a mural painter but opened the world of painting up to him. He graduated from MCAD in 1997 with a concentration in sculpture, but a passion for painting. He has completed nearly 100 mural images in the time that has passed since he did that first mural project. He has also received some very exciting awards and honors in his line of work such as the Michigan Beautification Award, a trip to Europe awarded by his hometown and their sister city in Germany, and even had April 7, 2001 dubbed "Stephen Hargash Day" by the long-standing mayor of Frankenmuth.
Stephen Hargash's talents do not end with paint. He participates in snow-sculpting and sand-sculpting competitions yearly and has received numerous accolades for this artwork that he creates with his experienced team of sculptors. In addition to snow and sand, he has created sculptures using a variety of mediums, including (but not limited to) cast bronze, cast iron, carved wood, ceramic, and found objects. From the conception to completion, sculpture is one of the many ways the artist has expressed himself through the years. When the mood strikes Stephen has been known to write music and play guitar in a style that is much like his painting, fluid, distinctive, and wildly imaginative. When asked if his work has been likened to any other artists , he says, "I have my own creative process, but if I had to say I thought I emulated anyone, I'd think of myself as Van Gogh-esque, or even a Rembrandt/Rockwell mix. My public art deals strongly with community and the narrative I'm trying to portray. My personal work is more experimental. I am always willing to try new things and change the process a little or make it different stylistically." The one great accomplishment the artist hopes to achieve with his art through his life he says is, "to touch and inspire as many people as possible through not only my art but through my passion about what I do and things I am working on." Hargash aims also to continue development of different concepts towards the goal of inspiring and teaching younger artists, and anyone in any walk of life. He believes strongly that all people, whether artists, doctors, builders, can be inspired to tap into and use that creative energy in their everyday lives. "I'm an advocate in every form of the creative endeavor and inspiring people to use that to better their lives, and increase their awareness of the importance that art plays in all our lives, communities and societies.", he says.
He has currently been pursuing his fine arts career as a painter showing in galleries in NY as well as continuing his prolific nature as a muralist. In the past 20 years he has gone on to paint over 100 mural images from MI to NY, and continues to grow as an artist developing his own unique technique and style. "We all have our own place or duty in this life, mine is that of an artist. I observe and document life. I give homage to people and places of the past, as well as the here and now. It is in fact the here and now that becomes our past, and is our history".